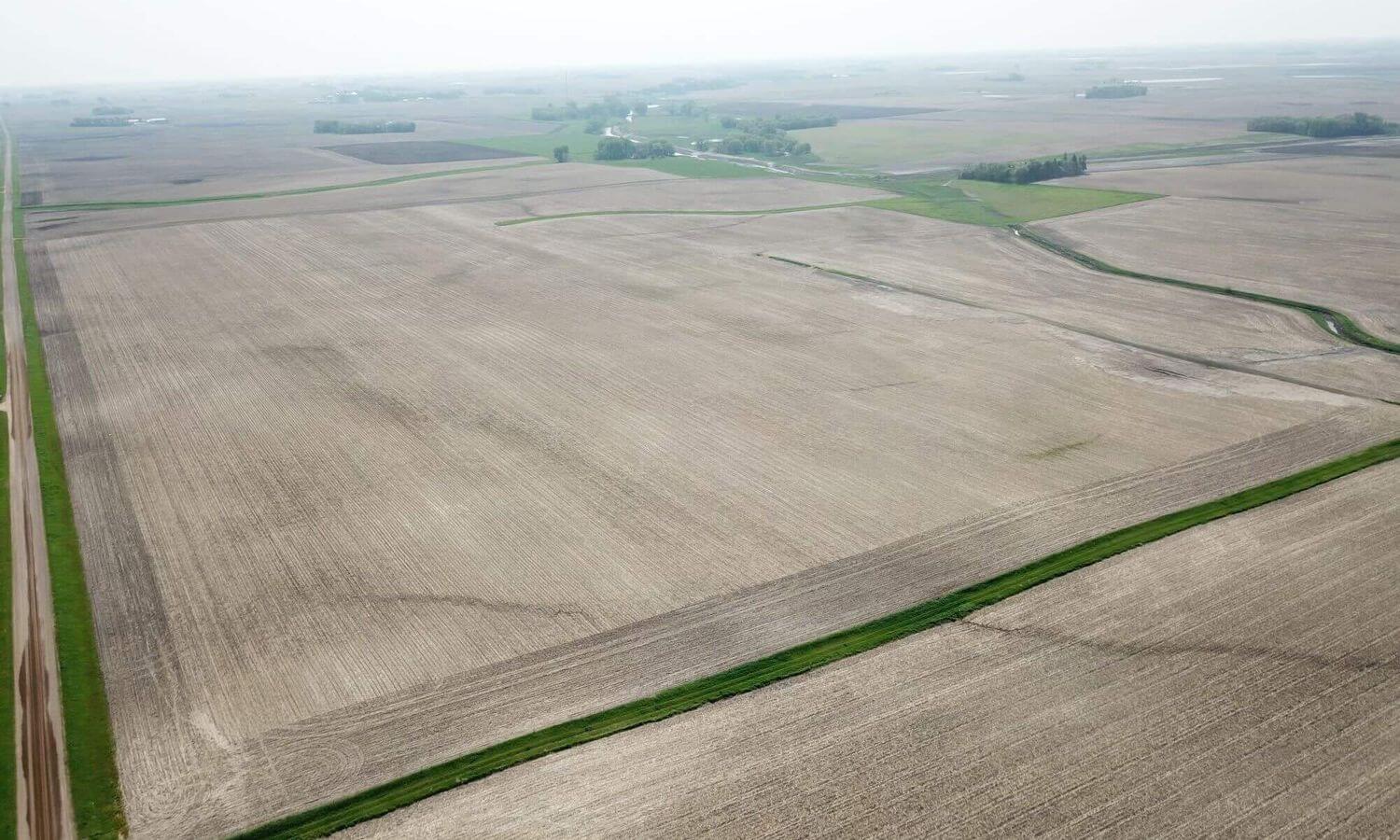 Southern three parcels of the farm with Redwood County drainage ditch running to the east.

Southeastern parcel of the Brookville farm with CRP bordering the waterway.

View of the farm looking south.
Northward view of the farm in May.

Southwestern view of the farm.

Southeastern parcel looking to the north.
Description
Brookville Farm is a 260 acre corn and soybean farm in Redwood County, Minnesota with highly rated soils, strong existing drainage with further planned improvements, and an experienced local operator.
Region
Redwood County is the fourth highest producing county in Minnesota and ranks in the top 75 counties nationally in dollar value of production of grains, oilseeds, dry beans, and dry peas. With nearly 1,800 registered producers, this region's agriculture is supported by a strong tenant base.
Property
Brookville Farm comprises a variety of loam and clay loam soils with a combined Crop Productivity Index score of 88.6 (on a scale of 0-100).
Redwood County receives an average annual rainfall of 26 inches, which has historically been an ample supply for crop production. The farm has some existing drainage tile which helps remove excess water along with a county-maintained drainage ditch in the southeast corner of the property.
Planned Improvements
An improvements budget of $60,000 will be used to expand upon the existing drainage system with additional tile to help improve subsurface drainage, intended to combat excess moisture. The farm will also undergo general cleanup, which is aimed at building long-term value and appeal.
Operator & Lease
This investment opportunity was brought to AcreTrader's attention by Remus Brothers Farms, a local farming company consisting of brothers Justin and Kyle Remus and their families. In addition to managing their own operated acreage, the company has offered custom farming services and agricultural product sales in the region since 2017. Their operation focuses on crop and soil health, employing sustainable practices like cover crops and split nitrogen applications.
A lease is in place with Remus Brothers Farms starting in 2024. The lease contains a flex component, which provides investors with a base rent with an opportunity for bonus rent in cases of higher yields and/or commodity prices.
Why We Chose This Investment
Flex Lease
A lease is in place containing a flex component, which provides investors with a base rent with an opportunity for bonus rent in cases of higher yields and/or commodity prices.
Seasoned Local Operator
The farm will be operated by Remus Brothers Farms, a partnership of two brothers that have managed their own acreage as well as offered custom farming services and agricultural product sales in the region since 2017.
Strong Drainage System
Brookville Farm has existing drainage tile in place as well as access to a public drainage ditch. This offering includes an improvements budget for additional tile to support soil and crop health.
Additional Details
Minimum Subscription Requirement: $2,464,200

Maximum Subscription Amount: $2,738,000

Termination Date: 11/16/2023

Hold Period: 3-5 year target hold period is anticipated

The property will be managed by Acretrader Management, LLC, an affiliate of AcreTrader, Inc.

Standard AcreTrader management fee of 0.75% applies annually.

Please note that the form of entity is an LLP rather than an LLC

Please note that due to Minnesota's farming laws, you may only invest in this farm as an individual (including SDIRAs and other individual retirement accounts) or a trust. Entities such as LLCs are not allowed to invest in this offering.


Please see the Financials tab and the Investment and LLP Agreement for additional information. The Private Placement Memorandum (PPM) is available in the Documents tab to be viewed or downloaded. The PPM and offering descriptions should be read carefully to fully understand the objectives, risk factors, charges, and expenses of an investment.
Risk Factors
Please refer to the PPM for the full list of risk factors.
Geographic Concentration
The Project is in one agricultural region of Minnesota. This exposes the Company to greater economic risks than if it owned a more geographically diverse asset base. As a result of the geographic concentration of farmland, the Company is particularly susceptible to developments or conditions in this geographic area, including adverse weather conditions, earthquakes, transportation conditions, crop disease, pests and other adverse growing conditions, and unfavorable or uncertain political, economic, business or regulatory conditions.
Third-party property managers may not be effective
The Manager, on behalf of the Company, may retain third-party property managers who will, under the supervision of the Manager, oversee the day-to-day operations of the Property by the tenants. The success of the Company will, accordingly, depend on the performance of such third-party property managers, and their failure to successfully perform their management duties could adversely impact the Property's results of operations and could reduce cash available for distributions to Members of the Company.
Execution Risk Associated with Planned Improvements
The Company may not effectively implement the planned improvements for the Property which could cause it to not be able to collect higher rent and thereby decrease cash available for distribution. The budget for improvements may be insufficient to complete the planned improvements which would have a materially adverse effect on returns to investors.
Disclosures
"We're happy to serve as an open educational resource for you, providing you with the tools needed to have confidence as you familiarize yourself with our platform and farmland as an asset class."
– Amber Cate
Investor Relations Associate