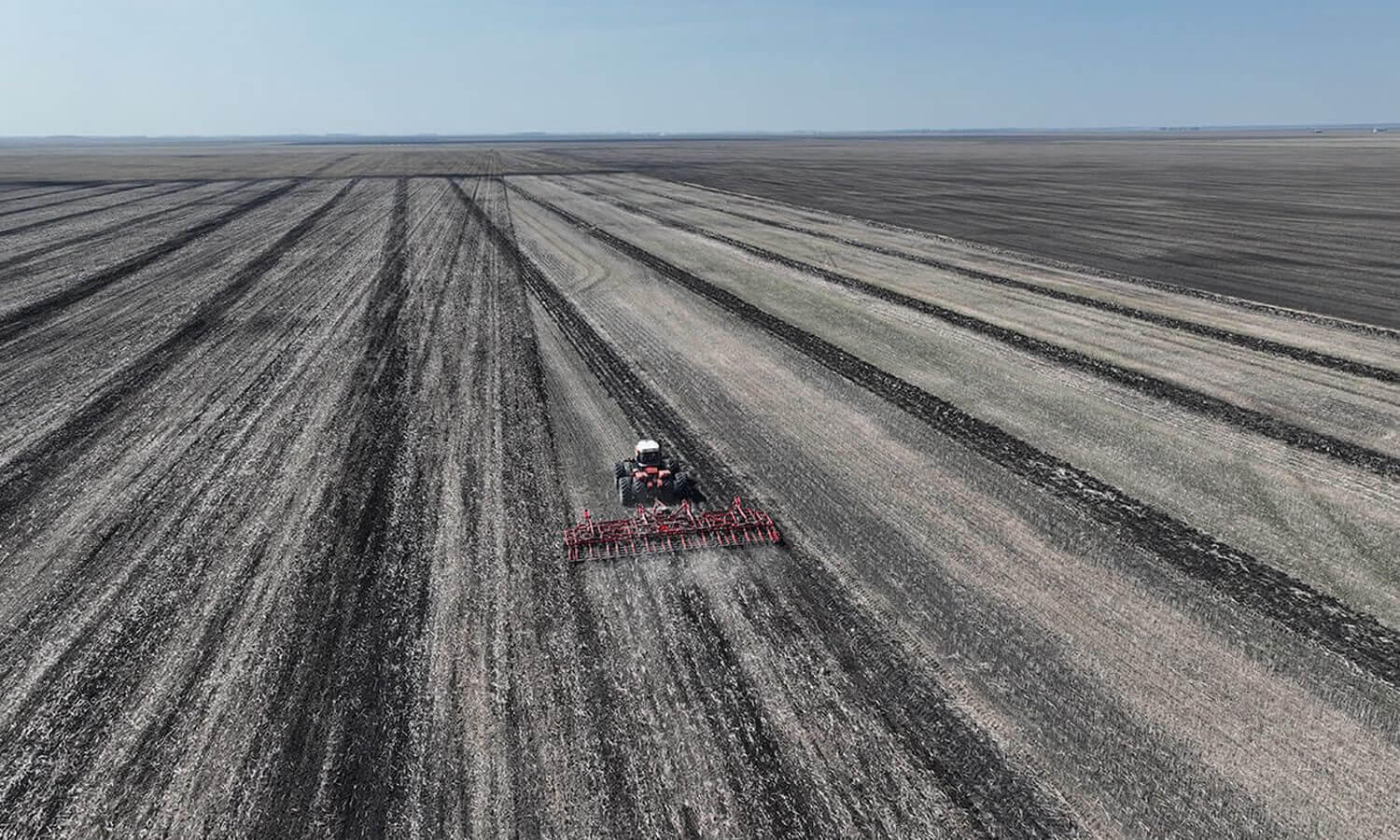 Tenant planting this year's crop

View of the farm looking to the southwest


View of the farm looking northwest


View of the farm looking northwest

Northcote-Eaglepoint clay soils


View of the farm during planting season


Description
Securities offered by AcreTrader Financial, LLC member FINRA|SIPC
Please note at this time AcreTrader Financial is not yet registered as a broker-dealer in the state of Florida, and therefore cannot yet accept subscription agreements from residents of that state.
Summary
Eaglepoint Farm is a 319 acre corn, soybean, wheat, and canola farm in Kittson County, Minnesota. Kittson County has a strong agriculture industry and tenant market, with over 400,000 acres of cropland and 800 registered producers. Eaglepoint Farm is AcreTrader's seventh farm in the Red River Valley and its second in Kittson County to be funded through the AcreTrader Platform. This offering is an opportunity to invest in versatile farm ground in a core United States farming region operated by a seasoned local tenant.
Region
This property lies within Minnesota's Red River Valley. The Red River Valley was formed by the draining of the historic glacial Lake Agassiz, which left behind a deep soil bed that is rich in nutrients. Eaglepoint Farm's 307 tillable acres consist entirely of Northcote-Eaglepoint clay, a common soil throughout the northern Red River Valley.
Crops
This region's dense soils are suited to the production of a wide variety of crops, known as crop optionality. Over the past 5 years, Eaglepoint Farm has produced corn, soybeans, wheat, and canola. It also has the potential for edible beans like black, navy, and pinto beans as well as sugar beets, a crop that commonly commands a rent premium in this region.
Water
Kittson County averages 21 inches of annual rainfall, typically an ample supply for row crop production. Eaglepoint Farm has three ditches across the property that support drainage to water outlets at the north end. The tenant is responsible for ditch upkeep.
Market
The Red River Valley is home to extensive crop processing infrastructure that supports commodity markets in the area. There is a large canola refining plant in Hallock, north of the property, as well as one of the larger grain elevators in the area located to the west in Drayton. The Red River Valley has also seen recent growth in planned soybean crushing facilities, and Minnesota is the most significant sugar beet region in the U.S.
Lease
AcreTrader will continue the existing lease with the current tenant, an experienced regional operator who has been farming the property for over five years.
Investment Highlights
5-10 year target hold period is anticipated.

Minnesota's Red River Valley is a productive area for U.S. agriculture and is home to extensive crop processing infrastructure. Eaglepoint Farm lies near both a canola refining plant and a major grain elevator.

There is a lease in place with the current tenant, an experienced regional operator who has been farming the property for over five years.

The property will be managed by Acretrader Management, LLC, an affiliate of AcreTrader, Inc.

Standard AcreTrader management fee of 0.75% applies annually.
Additional Details
Minimum Subscription Requirement: $1,287,000
Maximum Subscription Amount: $1,430,000
Termination Date: 9/23/2023
Please note that the form of entity for this offering is a LLP rather than an LLC.
Please note that due to Minnesota's farming laws, you may only invest in this farm as an individual or a trust. Entities such as LLCs are not allowed to invest in this offering.
Please see the Financials tab and the Investment and LLP Agreement for additional information. The Private Placement Memorandum (PPM) is available in the Documents tab to be viewed or downloaded. The PPM and offering descriptions should be read carefully to fully understand the objectives, risk factors, charges, and expenses of an investment.
Risk Factors
Please refer to the PPM for the full list of risk factors.
Geographic Concentration
The Company's activities will be limited to acquiring and holding the Property as an investment and are therefore inherently concentrated in a specific geographic location. A stagnant or depressed economy in the area in which the Property is located could adversely affect the value of the Property and the Company's ability to provide a return or any profit to investors
Third-party property managers may not be effective
The Manager, on behalf of the Company, may retain third-party property managers who will, under the supervision of the Manager, oversee the day-to-day operations of the Property by the tenants. The success of the Company will, accordingly, depend on the performance of such third-party property managers, and their failure to successfully perform their management duties could adversely impact the Property's results of operations and could reduce cash available for distributions to Members of the Company.
Crop Risk
Corn, soybeans, wheat, and canola are planned to be grown on the property. These commodities are subject to price volatility that could result in selling prices below break-even for the operator. Commodities are also subject to weather conditions including but not limited to drought, flood, and hail.
Disclosures
There is no assurance any investment will achieve its objective. Alternative asset investing is speculative and involves a high degree of risk, including complete loss of principal and are not suitable for all investors. The PPM contains a complete list of all Risk Factors and should be read carefully before investing.
There is no assurance any fund will meet its objectives. Investments are illiquid, not listed on an exchange, and not a short-term investment. Distributions are not guaranteed. Offering represents interest in a newly formed entity. Changes in tax law may adversely affect offerings. This offering is a private offering and is not registered under the Securities Act or under any state securities laws or the securities laws of any other jurisdiction.
These images depict the farm and the commodities grown there. Note that Investors are purchasing shares in an entity that will purchase this farm but are not purchasing actual acreage of the farm directly.
Securities offered by AcreTrader Financial, LLC member FINRA/SIPC. Please note at this time AcreTrader Financial is not yet registered as a broker-dealer in the state of Florida, and therefore cannot yet accept subscription agreements from residents of that state.
Please see additional risk factors and in the Issuer Document Package for a discussion of additional risks. The above presentation is based upon information supplied by the seller and others, and some images shown may be used for representative purposes and may not have been taken on location at the subject property. While AcreTrader performs extensive due diligence on the offerings on our Site, certain of the information presented in each offering may have been provided by third party sources. Therefore, AcreTrader and its respective affiliates, officers, directors or representatives (the "AT Parties") hereby advise you that while all such third party information contained herein has been provided by to us from sources deemed reliable, we cannot guarantee its accuracy. The AT Parties further make no representations as to the accuracy or completeness of any such information and undertake no obligation now or in the future to update or correct this presentation or any information contained herein.
Please see Additional Disclosures regarding our offerings and use of our Site
here.
"We're happy to serve as an open educational resource for you, providing you with the tools needed to have confidence as you familiarize yourself with our platform and farmland as an asset class."
– Amber Cate
Investor Relations Associate