Rolling Fork Timber Tract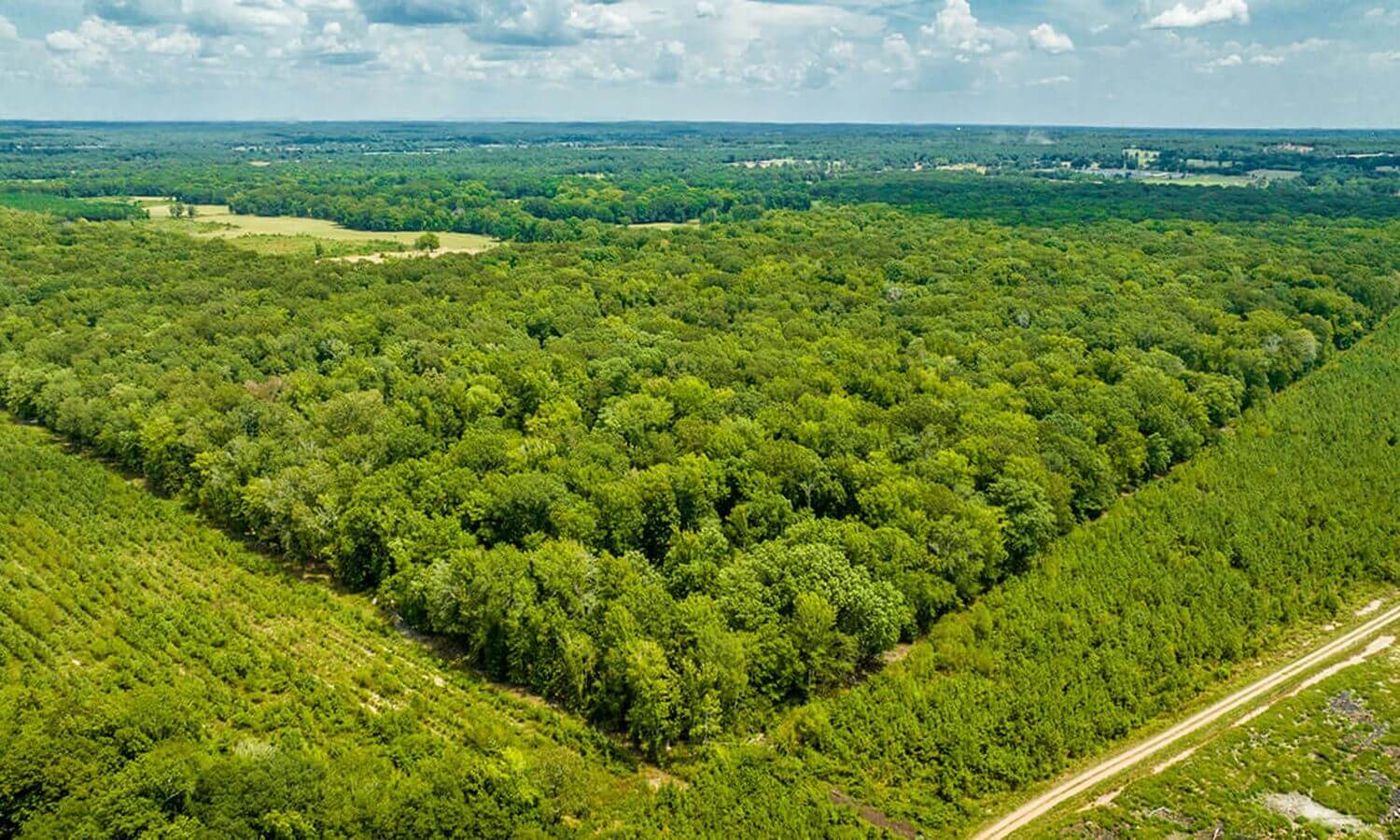 A mature hardwood tract surrounded by an emerging stand of planted pines.

Mature hardwoods along the property boundary line. Notice the recently replaced bridge infrastructure.

A healthy stand of planted pines.

Aerial view showing the health and diversity of the tract.

A well maintained interior road with planted pines on either side.

A great overview of a planted pine stand, ripe for thinning in the coming years.

Another overview of a planted pine stand with a well-maintained road, which provides access throughout the property.

Recent capital expenditures helped provide newly revamped bridges, increasing access throughout the property.

An interior shot of of a professionally managed pine stand.
Mature hardwoods and tributaries on the property provide exceptional wildlife habitat and contribute to its recreational value.
Rolling Fork Timber Tract
Description
Securities offered through AcreTrader 224, LLC
Rolling Fork Timber Tract is a 3,209 acre property in Sevier County, Arkansas with mature hardwoods and well diversified age classes of planted pines.
This tract is an opportunity to invest in a large, professionally managed forest whose size and diversity of tree species and age classes may provide investors with early harvest and cash flow potential.
Consisting of 91% productive timberland, this property has approximately 1,183 acres of planted pine of various ages as well as 1,730 acres of mature hardwoods of multiple species. This diversity of species and age classes offers the opportunity for harvest activity in multiple years of the hold period, and thus anticipated cash flow for investors.
Rolling Fork Timber Tract has direct access to U.S. Highway 70 and boasts an interior road system in good condition. It has received significant capital improvements in the past year undertaken by the present owner, including construction of a new main road and two new bridges.
This property has historically been professionally managed by an established local forestry company with a large management footprint and institutional-grade data and inventory tracking. We expect to continue working with the current management company to maintain continuity and leverage local expertise.
Rolling Fork Timber Tract lies in a strong wood basket with extensive mill infrastructure. The second largest softwood mill in the southern U.S. is located in the nearby town of Dierks, about 30 miles from the property, with additional nearby mill options for timber delivery.
In addition, the Rolling Fork Little River flows through this property, supporting wildlife populations and enhancing recreational value.
A timber tract of this size brings several potential investment benefits. Firstly, it allows for frequency and optionality of harvest activity and the ability to respond to trends in both softwood and hardwood markets. Additionally, ongoing management activities associated with regular thinning helps maintain and build long term value as an investable timber property.
There is also flexibility and risk diversification with respect to exit strategy. A large tract like this one could ultimately be divided and sold in smaller parcels into the timber or recreational market. Alternatively, an aggregation strategy in which this tract is combined with another AcreTrader timber property in neighboring Howard County could prove marketable to institutional buyers.
Investment Highlights
5-10 year target hold period given stable cash flows and potential for long-term appreciation.

Invest in a hard asset with little or no correlation to other major asset classes.

The property will be managed by Acretrader Management, LLC, an affiliate of AcreTrader, Inc.

Standard AcreTrader management fee of 0.75% applies annually.
Additional Details
Minimum Subscription Requirement: $6,671,511 Maximum Subscription Amount: $7,412,790 Termination Date: April 20, 2023
Please see the additional Timberland Risk Factors in the Documents Tab of the Offering.
Please see the Financials tab and the Investment and LLC Agreement for additional information, including the Private Placement Memorandum.
SUPPLEMENTAL DISCLOSURES:
Use of Proceeds: The proceeds of this offering will be used to acquire the Rolling Fork Timber Tract property, including payment of acquisition expenses. Please refer to the Financials Tab for more information regarding the sources and uses of proceeds. Please note that Affiliates of Acretrader 224, LLC will be reimbursed for any expenses advanced on its behalf as specified in the Operating Agreement. An affiliate of AcreTrader 224, LLC (AcreTrader Financial, LLC) ("ATF") is a registered broker-dealer and member of FINRA|SIPC. Securities from this offering are NOT being offered through ATF and no selling compensation will be paid to ATF in connection with this offering.
Risk Factors and Disclosures
There is no assurance any investment will achieve its objectives. Alternative asset investing may involve a high degree of risk, including loss of principal and are not suitable for all investors.
An investment in this offering is illiquid. Shares are not listed on a publicly listed exchange.
Please see additional risk factors here and in the Issuer Document Package for a discussion of additional risks. The above presentation is based upon information supplied by the seller and others, and some images shown may be used for representative purposes and may not have been taken on location at the subject property. While AcreTrader performs extensive due diligence on the offerings on our Site, certain of the information presented in each offering may have been provided by third party sources. Therefore, AcreTrader and its respective affiliates, officers, directors or representatives (the "AT Parties") hereby advise you that while all such third party information contained herein has been provided by to us from sources deemed reliable, we cannot guarantee its accuracy. The AT Parties further make no representations as to the accuracy or completeness of any such information and undertake no obligation now or in the future to update or correct this presentation or any information contained herein.
Please see Additional Disclosures regarding our offerings and use of our Site
here.