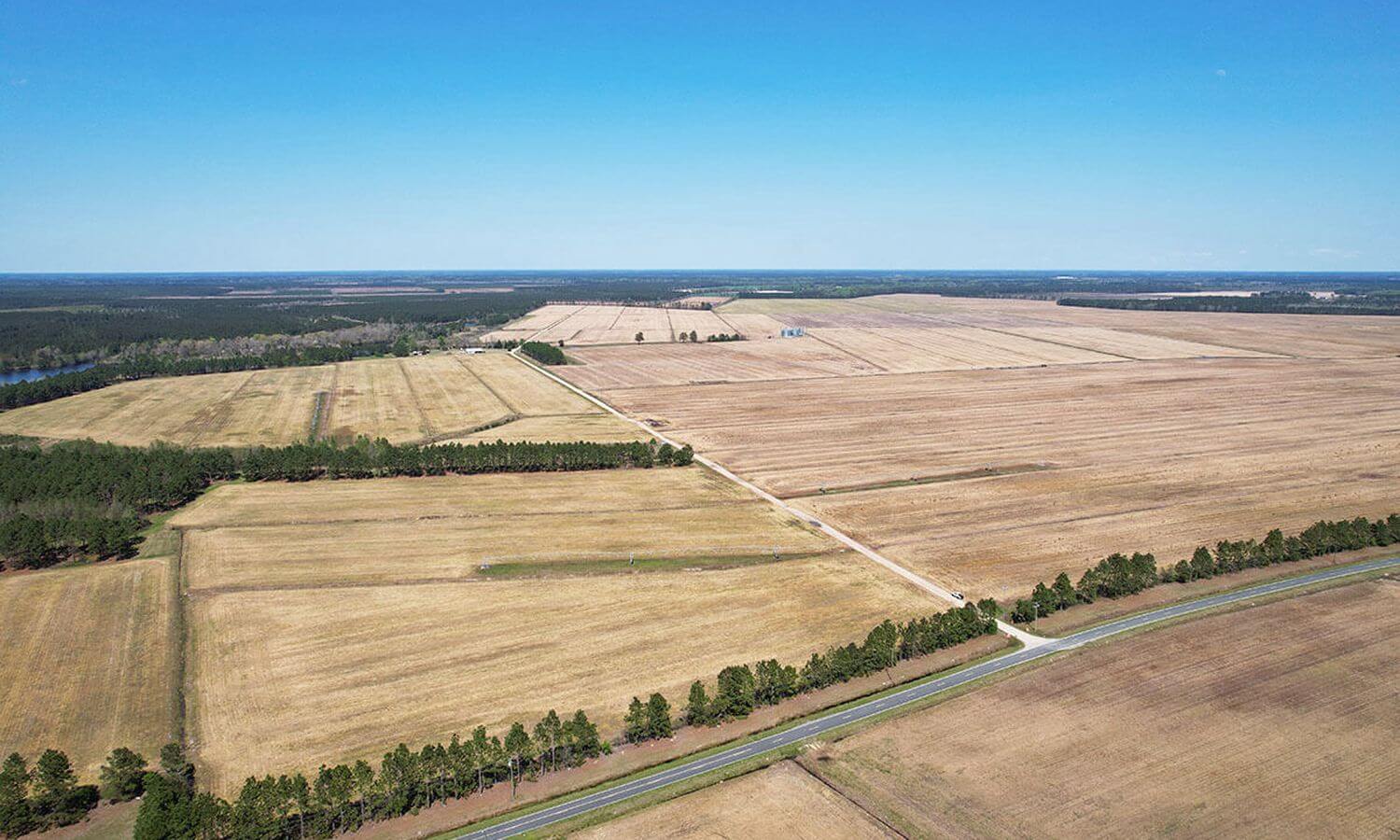 Shiloh Farm looking North

Shiloh Farm viewed from the east


Shiloh Farm looking North with White Oak Branch on the left


Shiloh Farm looking northeast

Grain bins that will be leased to the tenant.


Southern portion of the property facing west


Center pivot and pivot bridges to efficiently irrigate the farm via the canal system.
Description
Securities offered by AcreTrader Financial, LLC member FINRA|SIPC
Please note at this time AcreTrader Financial is not yet registered as a broker-dealer in the state of Florida, and therefore cannot yet accept subscription agreements from residents of that state.
Shiloh Farm is a 1,152 acre cotton, soybean, and corn farm in Pender County, North Carolina with crop optionality and robust water resources in a strong agricultural region.
Pender County is located in North Carolina's Inner Coastal Plain. This area is characterized by its flat topography and rich, sandy soils that support some of the state's most productive farmland. Agriculture in this area benefits from a temperate climate, ample precipitation, and an extended growing season that allows for suitability to a multitude of crops.
North Carolina's livestock industry contributes to strong local demand for commodities, which may result in higher regional prices for corn and soybeans. The state ranks second nationally in turkey production, third in pork, and fourth in broiler chickens. Pender County lies adjacent to the three largest livestock producing counties in the state.
Shiloh Farm's 1,022 irrigated acres consist of Rains and Goldsboro fine sandy loams, soils common throughout the coastal plains. These soils are well-drained and can be supplemented with irrigation when necessary. A contiguous, tillable tract of this size is a rare find in this region.
The property is irrigated by both groundwater and surface water. Groundwater is delivered via five irrigation pivots and one linear system supplied by five wells that pull from the North Atlantic Coastal Plain Aquifer system, a large well-supplied aquifer that lies below the eastern third of the state.
In addition to groundwater resources, Pender County receives an average of 53 inches of rain annually. This surface water is retained from precipitation in the ditches and canals throughout the property and can be recycled into the irrigation system.
This offering includes a $195,000 allocation to make further improvements to the irrigation system. This includes water control structures for surface water retention, pivot bridges to help move water throughout the property, and the addition of another well.
Shiloh Farm will continue to be leased to its current operator. The farm has over 120,000 bushels of grain storage in addition to several other outbuildings. These structures will also be rented to the tenant, providing a supplemental income stream for investors.
Investment Highlights
5-10 year target hold period is anticipated.

The property will be managed by Acretrader Management, LLC, an affiliate of AcreTrader, Inc.

Standard AcreTrader management fee of 0.75% applies annually.

$195,000 capital improvement budget to fund key improvements.
Additional Details
Minimum Subscription Requirement: $6,520,500
Maximum Subscription Amount: $7,245,000
Termination Date: August 24, 2023
Please see the Financials tab and the Investment and LLC Agreement for additional information. The Private Placement Memorandum (PPM) is available in the Documents tab to be viewed or downloaded. The PPM and offering descriptions should be read carefully to fully understand the objectives, risk factors, charges, and expenses of an investment.
Risk Factors
Please refer to the PPM for the full list of risk factors.
Geographic Concentration
The Project is in one agricultural region of North Carolina. This exposes the Company to greater economic risks than if it owned a more geographically diverse asset base. As a result of the geographic concentration of farmland, the Company is particularly susceptible to developments or conditions in this geographic area, including adverse weather conditions, earthquakes, transportation conditions, crop disease, pests and other adverse growing conditions, and unfavorable or uncertain political, economic, business or regulatory conditions.
Issues with Adequate Water
If the Property does not have access to adequate water supplies or if the Property's irrigation infrastructure fails, it could harm the Company's ability to lease the Property for farming or cause unexpected capital expenditure; thereby, adversely affecting the Company's ability to generate returns, as well as decrease the value of the Property, which would negatively affect the Investor's investment.
Execution Risk Associated with Planned Improvements
The Company may not effectively implement the planned improvements for the Property which could cause it to not be able to collect higher rent and thereby decrease cash available for distribution. The budget for improvements may be insufficient to complete the planned improvements which would have a materially adverse effect on returns to investors.
Disclosures
There is no assurance any investment will achieve its objective. Alternative asset investing is speculative and involves a high degree of risk, including complete loss of principal and are not suitable for all investors. The PPM contains a complete list of all Risk Factors and should be read carefully before investing.
There is no assurance any fund will meet its objectives. Investments are illiquid, not listed on an exchange, and not a short-term investment. Distributions are not guaranteed. Offering represents interest in a newly formed entity. Changes in tax law may adversely affect offerings. This offering is a private offering and is not registered under the Securities Act or under any state securities laws or the securities laws of any other jurisdiction.
These images depict the farm and the commodities grown there. Note that Investors are purchasing shares in an entity that will purchase this farm but are not purchasing actual acreage of the farm directly.
Securities offered by AcreTrader Financial, LLC member FINRA/SIPC. Please note at this time AcreTrader Financial is not yet registered as a broker-dealer in the state of Florida, and therefore cannot yet accept subscription agreements from residents of that state.
Please see additional risk factors and in the Issuer Document Package for a discussion of additional risks. The above presentation is based upon information supplied by the seller and others, and some images shown may be used for representative purposes and may not have been taken on location at the subject property. While AcreTrader performs extensive due diligence on the offerings on our Site, certain of the information presented in each offering may have been provided by third party sources. Therefore, AcreTrader and its respective affiliates, officers, directors or representatives (the "AT Parties") hereby advise you that while all such third party information contained herein has been provided by to us from sources deemed reliable, we cannot guarantee its accuracy. The AT Parties further make no representations as to the accuracy or completeness of any such information and undertake no obligation now or in the future to update or correct this presentation or any information contained herein.
Please see Additional Disclosures regarding our offerings and use of our Site
here.
"We're happy to serve as an open educational resource for you, providing you with the tools needed to have confidence as you familiarize yourself with our platform and farmland as an asset class."
– Amber Cate
Investor Relations Associate