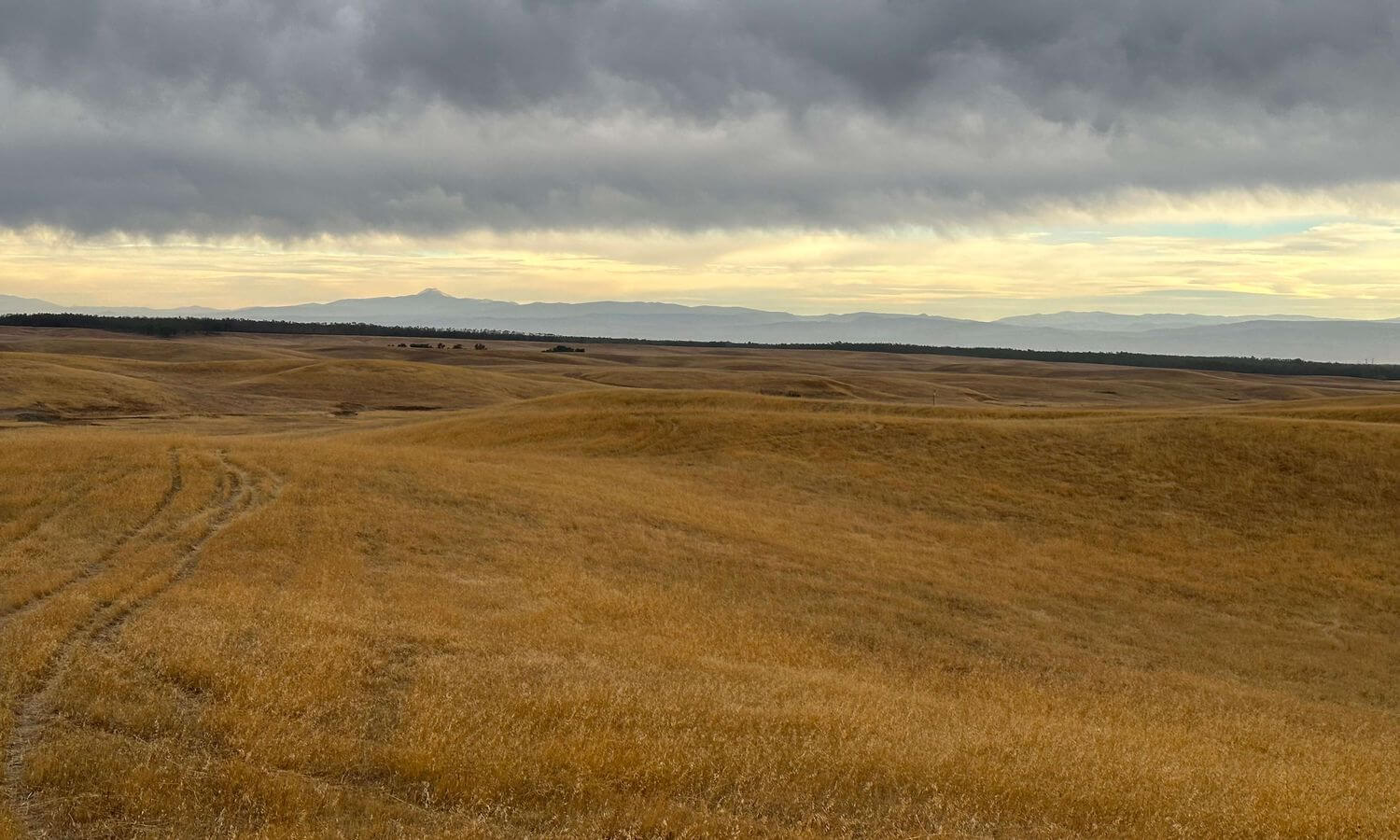 Stony Creek will be developed into a super high-density olive orchard for premium extra virgin olive oil.

Nearby Black Butte Ranch (shown here at maturity) is owned & managed by the Sponsor Team.

(Foreground): Virgin soil to be developed into olives at Stony Creek Olive Ranch. (Background): Neighboring almond orchard

Domestic consumption of olive oil has grown steadily at 6% annually over the last 59 years due to perceived health benefits.

Rolling topography, well-drained soils, in-place irrigation, and elevation help optimize Stony Creek for olive development.

California olive oil can be sold at a premium due to strict provenance and labelling standards.
Description
Stony Creek Olive Ranch is a 158 acre ranch in Tehama County, California that will be developed into a super high-density olive orchard using a trellis system and will produce olives to supply the growing domestic demand for premium California Extra Virgin Olive Oil (EVOO).
This offering is an opportunity to invest alongside an industry-leading Farm Sponsor in an established growing region at what we believe to be an attractive land purchase price.
Why We Chose This Investment
Off-Market Property at Attractive Entry Price
The Farm Sponsor team is acquiring the property off-market due to the Sponsor's local relationships and the Sponsor's existing olive orchard operations near Stony Creek. Currently, the property consists of bare ground with resident vegetation and a newly installed well for irrigation. The purchase price for the 158 acre ranch represents a price of $2,911 per gross acre. Corning, which is located within Tehama County, is considered California's olive capital.
Undersupplied and Growing Market
Consumption of olive oil in the U.S. has grown by 6% on average annually since 1965. The United States is the largest importer of olive oil globally, yet produces less than 1% of global production. The dominant growing region, the European Union, supplies 2/3 of global production and is currently facing a multi-year drought driving global olive oil prices to the highest prices on record according to the International Monetary Fund. Furthermore, California's extra virgin olive oil is differentiated in the market due to its premium quality.
Industry-Leading Sponsor
The Farm Sponsor team is led by Adam Englehardt, a fifth generation olive grower and orchard management specialist who currently serves as Vice Chairman of the California Department of Agriculture's Olive Oil Commission of California (OOCC). Adam has pioneered the development and management of super-high density olive orchards in California to optimize profitability. Adam's combination of utilizing super high-density plantings with trellis infrastructure, optimal irrigation techniques, and specialized canopy management through skilled hand pruning has proven to optimize yields and the oil content of the fruit with the goal to maximize returns per acre.
Additional Details
Property and Offering Structure
Tehama County lies in northern California at the northern part of the Central Valley, one of the world's most productive farming regions. The rolling topography of this region aids in both soil drainage and frost protection.
The property will be planted to a super high-density orchard which is currently planned to be primarily to Arbequina olives, a variety well-suited for high-density olives in this area. Pre-development work, ground preparation, irrigation installation, and trellis installation will take place in the first half of 2024. The trees will be planted in June or July of 2024 on rows spaced 13 feet apart and 6 feet between trees, resulting in 670 trees per acre. It is anticipated that the trees will begin to harvest a commercial crop in their third year and reach maturity approximately 2028. Super high-density olives typically have a productive life of at least 40 years and can yield up to 3 times more than traditional layouts.
Per acre returns and productive life span can often be optimized through efficient management practices such as proper pruning, irrigation, and fertilizer application, potentially positively impacting orchard value. These practices may also help to smooth out olives' natural tendency to bear more heavily in alternating years, leading to more consistent yields.
The property is enrolled in a contract under the Williamson Act, which provides for lower property taxes on agricultural land; the contract is expected to continue for the life of the investment.
Olive Oil Market - Growing Demand Amid Decreasing Supply
Stony Creek Olive Ranch will produce olives used in the production of extra virgin olive oil, a product that has experienced growing demand trends over the past six decades due to growing awareness of its health benefits. Because of rigorous quality standards upheld by the Olive Oil Commission of California, California olive oil is seen and marketed as a differentiated premium product. "Extra virgin" is the top grade of olive oil according to standards established by the International Olive Council (IOC) and the USDA. Certain chemistry standards and sensory standards must be met to quality as EVOO. The oil must have zero defects and greater than zero fruitiness.
In 2010, a UC Davis study showed that almost 70% of imported oils fail to meet the standards for EVOO. Of the top 5 selling imported "extra virgin" olive oil brands in the US, 73% of the samples failed the International Olive Council's standards for Extra Virgin Olive Oil. In that study, none of the Californian or Australian samples failed the test. The U.S. has historically been import-heavy to supply it's growing demand. At the same time, bearing olive acreage in California has been flat for the last decade.
Approximately ⅔ of global olive oil production comes from the European Union and the vast majority of this production comes from non-irrigated, older orchards that are highly susceptible to drought and climate conditions. Currently, the global olive market is undersupplied due to multiple years of drought impacting European producers, particularly in Spain, driving olive oil prices to the highest prices in decades. Areas such as the Sacramento Valley that are capable of irrigating super-high density orchards could be well positioned to capitalize on the potential yield losses these key Mediterranean olive growing regions face.
Water
Mature olive trees are highly drought tolerant and less water-intensive than many other permanent crops. These characteristics have increased demand and values for land suitable for olives grown for olive oil.
Stony Creek Olive Ranch is located within the Corning Subbasin, which has historically experienced no overdraft or water restrictions. Future hydrologic water budget projections suggest the subbasin should remain balanced, with only minor adjustments necessary to maintain sustainable conditions. In addition, Tehama County receives an average of 35 annual inches of rainfall.
The Stony Creek Olive Ranch will utilize highly efficient irrigation systems fed by a newly established well, which is expected to provide more than adequate irrigation for the entire ranch.
Sponsor
Stony Creek Olive Ranch is the second olive orchard investment brought to the AcreTrader platform by the Sponsor team led by Adam Englehardt and Tim Tomlinson, a team deeply experienced in California olive oil production and investment.
Adam Englehardt is a fifth generation California farmer and has worked in the olive industry since 1998 when he joined his family's olive farming company. From 2008 to 2014, he managed the expansion of California Olive Ranch from 500 planted acres to 10,000 planted acres across the state. In 2014, he was made President and CEO of the newly formed Boundary Bend Olives Inc., the U.S. subsidiary of Australia's Boundary Bend Limited, now known as Cobram Estate. Upon his departure in 2019, Boundary Bend had grown to the 3rd largest olive oil handler in CA and the fastest growing CA olive oil brand in supermarkets.
Since 2019, he has operated Englehardt Ag Services, Inc, a firm specializing in the development, management, and harvest of super high-density olives for olive oil. Englehardt serves as the Vice Chairman Emeritus of the California Department of Agriculture's mandated Olive Oil Commission of California (OOCC) and is the chairman emeritus of the American Olive Oil Producers Association representing domestic olive growers at the federal level. He has a degree in Agricultural Business from Cal Poly State University in San Luis Obispo.
Tim Tomlinson currently directs a technology company and serves as a Director of PMC. From 1975 to 1981 he worked as an associate attorney at O'Melveny and Myers, a national corporate law firm. In 1983, he founded Tomlinson, Zisko, Morosoli & Maser, a corporate firm serving high tech companies, investors, large construction companies, and companies purchased in highly leveraged transactions. The firm was acquired by Greenberg Traurig, LLP in 2007. In 2011 Mr. Tomlinson became PMC's General Counsel, a position he held through 2013. He has BA, MBA, JD, and Ph.D. degrees from Stanford University.
Additional Details
Please note also that the Sponsor requests that each investor provides a completed Form W-9 (See W-9 attached to Subscription Agreement).
The sponsor cannot accommodate pension plans, funds, IRA or SDIRA investors in this particular offering.
Minimum Subscription Requirement: $1,000,000
Maximum Subscription Amount: $1,400,000
Termination Date: 3/16/2024
10 year target hold period is anticipated.
Managed by Englehardt Ag Services, Inc.
Please see the Financials tab and the Investment and LLC Agreement for additional information. The Confidential Information Memorandum (PPM) is available in the Documents tab to be viewed or downloaded. The PPM and offering descriptions should be read carefully to fully understand the objectives, risk factors, charges, and expenses of an investment.
Risk Factors
Please refer to the PPM for the full list of risk factors.
Geographic Concentration
The Company's activities will be limited to acquiring and holding the Property as an investment and are therefore inherently concentrated in a specific geographic location. A stagnant or depressed economy in the area in which the Property is located could adversely affect the value of the Property and the Company's ability to provide a return or any profit to investors.
Development Activity
The Project involves significant development activity and the cultivation of olive trees to production takes time. Planting olives typically requires substantial capital outlay during the development period and several years could pass before positive cash flows can be generated, if ever.
Permanent Crop Risks
The Project will be planted with a permanent crop. Permanent crops have plant structures (such as root stock, trees, vines or bushes) that produce yearly crops without being replanted. Permanent crops such as olives involve more risk than specialty/vegetable and commodity row crops because permanent crops require more time and capital to plant. As a result, permanent crops are more expensive to replace. If a farmer loses a permanent crop to drought, flooding, pestilence, fire or disease, then there would generally be significant time and capital needed to return the land to production because a tree may take years to grow before bearing fruit.
Disclosures
"Farmland and Timberland are asset classes that are not commonly well known among investors. I am happy to answer whatever questions you have so you can become more informed on the asset class."
– Antanas Riskus
Manager, Investor Relations