San Luis Obispo County
,
CA
Templeton Preserve Vineyard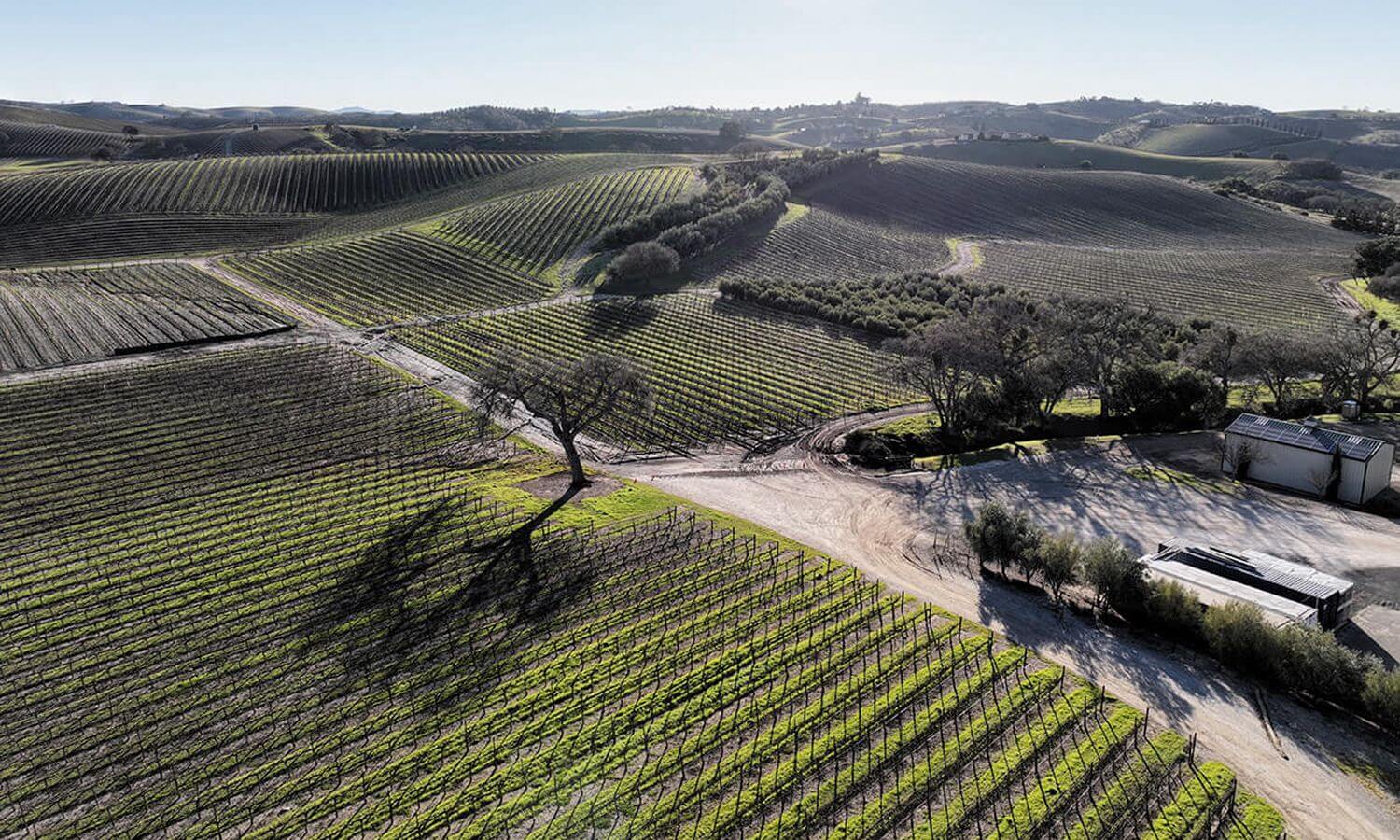 Southwestern view of the property.

Northeastern aerial view of the property, facing entrance to the property.
The Fableist Wine Company is leasing the winery on site.

The block of olives on the left will be redeveloped.

Northeastern aerial view of the property. Facing entrance of the property.

Southern view of property overlooking current merlot grape plantings.

Northern blocks of the property. The olive tree planting to the left of the winery will be redeveloped into wine grapes.

Western view of the property. The buildings in the frame are the shop and winery.

Western views of red wine grape plantings.

Views of southern blocks of red wine grape plantings.
San Luis Obispo County
,
CA
Templeton Preserve Vineyard
Description
Securities offered by AcreTrader Financial, LLC member FINRA|SIPC
Please note the terms of this offering were modifed on Thursday, April, 20, 2023. Please see the Additional Details Section below and the Amended and Restated PPM for more complete information.
Please note at this time AcreTrader Financial is not yet registered as a broker-dealer in the state of Florida, and therefore cannot yet accept subscription agreements from residents of that state.
Summary
Templeton Preserve Vineyard is a 122 acre wine grape vineyard in San Luis Obispo County, California located in the heart of the Paso Robles wine region in the city of Templeton.
This is an opportunity to invest in an established vineyard in a proven growing region positioned to take advantage of market trends alongside a sponsor team whose experience encompasses the full value chain.
Region
Paso Robles AVA (American Viticultural Area) is California's fastest growing wine region, known in particular for its cabernet sauvignons. It is swiftly becoming a key producer of this grape variety and wines made from it, which largely supply wines in the $20+ per bottle range. Templeton Preserve Vineyard is located in the El Pomar District of the Paso Robles AVA, a well-established grape growing area with significant institutional presence.
Paso Robles' combination of climate, growing season duration, and soil variety provides ideal conditions for premium wine grapes. The region's topography is defined by high, older terraces, fans, and hills as well as quaternary alluvial soils. High soil diversity here allows vineyards to grow multiple grape varieties. The region is known for its unique climate of high daytime temperatures and cool nights, which allow grapes to achieve power and full ripeness while also maintaining their high acidity levels.
Learn more about the state of California's wine market and Paso Robles AVA in "Themes In the U.S. Wine Industry", in-depth research from our permanent crop investment team.
Project
Currently, 94 acres of the property are planted to wine grapes, along with a small section of olives. There is planned redevelopment of ~60 acres into high-demand grape varieties, specifically the better-priced cabernet sauvignon and petit verdot varieties.
The property also includes an on-site winery, which constitutes a large portion of the total asset value. This building is currently leased to the Fableist Wine Company, a label owned and vinted by offering co-sponsor, Andrew Jones.
The Fableist will continue leasing this building under a triple net lease structure paid to the entity purchasing the vineyard. Under this agreement, the tenant assumes all risk of ongoing operations and is responsible for taxes, repair, and maintenance, mitigating risk exposure for investors in this property. The new lease will have a 10 year duration, matching the entirety of the hold period for this investment.
Property History
This property has an established history as a vineyard and winery as the estate vineyard of the Merrill family, a generational winemaking family and the seller of the property. It has been well-maintained as a commercial vineyard.
Templeton Preserve's history was key to establishing Central Coast Vineyard Team (CCVT), a group dedicated to promoting sustainable wine production. The vineyard itself is SIP (Sustainability In Practice) certified, a third-party standard that ensures vineyards are producing in a way that protects both natural and human resources. This labeling, started by the winery's previous owner, answers a growing trend in consumers for sustainable wines.
Water Availability
Templeton Preserve relies on its 2 wells to pump groundwater. There is a planting ordinance in place that limits new agricultural developments in the district, limiting sites to their historical irrigation use. Under this ordinance, the redevelopment project planned for this property will be supported by its existing water allocation.
The development plan for this property includes constructing a reservoir with the capacity to hold over 2 million gallons of water. The additional storage will provide for irrigation increases in case of extreme heat events. It will also provide additional security during well downtime needed for repairs. Furthermore, the reservoir will add farming efficiency for the operation, reducing total irrigation time, as well as employee overtime.
Farm Sponsor
This investment will be AcreTrader's second with offering sponsor, Strongwater Viticultural Investments LLC. Strongwater is a partnership of three leaders in the Central Coast's wine industry: Anthony Bozzano, Andrew Jones, and Michael Testa. The trio brings to the project over 55 years of combined expertise in wine grape and grape vine nursery sales, viticulture, and vineyard management. The Sponsor team will co-invest $455,000 alongside investors.
Anthony Bozzano owns and operates Bozzano & Company, a Central Coast based wine business specializing in the sourcing and sales of bulk wine, wine grapes, and custom wine brands. He previously managed bulk wine sales and private label product development for the Miller Family, a 5th generation farming family with properties throughout Santa Barbara and San Luis Obispo County. Born and raised in a diversified farming family in Stockton, CA, Anthony graduated from Cal Poly, SLO, where he majored in agricultural business with a minor in viticulture. He is a member of Class 43 of the California Agricultural Leadership Foundation (CALF), as well as the current Regional Director of the CALF Alumni Council.
Andrew Jones is the VP of Sales for Sunridge Nurseries, a premier grapevine nursery for the wine industry. He manages a team of field representatives that oversee the sales of 12-16 million grapevines annually. In addition to his work at Sunridge, he is the owner and winemaker of two wine brands: Field Recordings, based in Paso Robles, and Fableist Wine Co., based in Templeton. In 2015, Andrew was named to the top 40 under 40 - America's tastemakers by the Wine Enthusiast. He is a graduate of Cal Poly, SLO with a degree in agricultural business and a concentration in viticulture.
Michael Testa is a partner and serves as the General Manager of Coastal Vineyard Care Associates, a premiere vineyard management company in its 40th year of business. Prior to CVCA, Mike worked in several vineyard management and grower relations roles for E&J Gallo Winery. Mike serves on the Board of Directors for the California Association of Winegrape Grower (CAWG) and recently completed a 2 year term as Chairman. He graduated from Cal Poly, SLO with a degree in wine business management, earned his MBA from Arizona State University, and is a member of the Class 42 of the California Agricultural Leadership Foundation (CALF).
Investment Highlights
Opportunity to invest in a celebrated vineyard property in a premium wine grape pricing district.

Experienced Sponsor team that brings decades of expertise in wine sales, viticulture, and vineyard management.

10 year hold period with value-added improvements and potential for long-term appreciation.
Additional Details
Minimum Subscription Requirement: $8,275,000
Maximum Subscription Amount: $9,775,000
Termination Date: June 30, 2023
Summary of offering changes:
Reduction of minimum investment. The new minimum investment for this offering is $15,000 (15 units at $1,000 per unit).
Reduced Fees. The AcreTrader Management fee for this offering is as follows:

There will be no annual management fees charged in the first three years.
Thereafter, the annual management fee will be tiered as follows:

0.75% for any investment below $35,000;
0.50% for any investment between $35,000 and $99,000; and
0.25% for any investment of $100,000 or more.

Increased Priority Return Hurdle. The cumulative, non-compounding priority return for investing members has been increased from 6% to 8%.
Utilization of Term Loan. In accordance with the Investment Memorandum, the Manager intends to utilize third party debt financing of $1,500,000 as a source of funds to reach the offering minimum. With this term loan, in addition to the development loan, the projected maximum loan-to-value during the hold period is 30%.
Increased Triple Net Lease Rate. The Fabelist Wine Company, the tenant of the onsite winery, has agreed to a 3% escalator to its 10-year Triple Net Lease with the Templeton Preserve Vineyard (Strongwater Viticulture Investments TP, LLC).
Updated proposed distribution schedule.
Please see the Financials tab and the Investment and LLC Agreement for additional information. The updated Private Placement Memorandum (PPM) is available in the Documents tab to be viewed or downloaded. The PPM and offering descriptions should be read carefully to fully understand the objectives, risk factors, charges, and expenses of an investment.
Disclosures
There is no assurance any investment will achieve its objective. Alternative asset investing is speculative and involves a high degree of risk, including complete loss of principal and are not suitable for all investors. The PPM contains a complete list of all Risk Factors and should be read carefully before investing.
There is no assurance any fund will meet its objectives. Investments are illiquid, not listed on an exchange, and not a short-term investment. Distributions are not guaranteed. Offering represents interest in a newly formed entity. Changes in tax law may adversely affect offerings. This offering is a private offering and is not registered under the Securities Act or under any state securities laws or the securities laws of any other jurisdiction.
These images depict the farm and the commodities grown there. Note that Investors are purchasing shares in an entity that will purchase this farm but are not purchasing actual acreage of the farm directly.
Securities offered by AcreTrader Financial, LLC member FINRA/SIPC. Please note at this time AcreTrader Financial is not yet registered as a broker-dealer in the state of Florida, and therefore cannot yet accept subscription agreements from residents of that state.
Please see additional risk factors and in the Issuer Document Package for a discussion of additional risks. The above presentation is based upon information supplied by the seller and others, and some images shown may be used for representative purposes and may not have been taken on location at the subject property. While AcreTrader performs extensive due diligence on the offerings on our Site, certain of the information presented in each offering may have been provided by third party sources. Therefore, AcreTrader and its respective affiliates, officers, directors or representatives (the "AT Parties") hereby advise you that while all such third party information contained herein has been provided by to us from sources deemed reliable, we cannot guarantee its accuracy. The AT Parties further make no representations as to the accuracy or completeness of any such information and undertake no obligation now or in the future to update or correct this presentation or any information contained herein.
Please see Additional Disclosures regarding our offerings and use of our Site
here.
"We're happy to serve as an open educational resource for you, providing you with the tools needed to have confidence as you familiarize yourself with our platform and farmland as an asset class."
– Amber Cate
Investor Relations Associate